Science+Religion=Truth ? (excerpts to stimulate curiousity)
Galaxy may be full of 'Earths,' alien life
(CNN)
-- As NASA prepares to hunt for Earth-like planets in our corner of the Milky Way galaxy, there's new buzz that "Star Trek's" vision of a universe full of life may not be that far-fetched.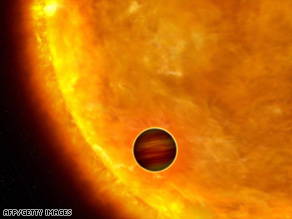 An artist's impression shows a planet passing in front of its parent star. Such events are called transits.
Pointy-eared aliens traveling at light speed are staying firmly in science fiction, but scientists are offering fresh insights into the possible existence of inhabited worlds and intelligent civilizations in space.
There may be 100 billion Earth-like planets in the Milky Way, or one for every sun-type star in the galaxy, said Alan Boss, an astronomer with the Carnegie Institution and author of the new book "The Crowded Universe: The Search for Living Planets."
He made the prediction based on the number of "super-Earths" -- planets several times the mass of the Earth, but smaller than gas giants like Jupiter -- discovered so far circling stars outside the solar system.
Boss said that if any of the billions of Earth-like worlds he believes exist in the Milky Way have liquid water, they are likely to be home to some type of life.
"Now that's not saying that they're all going to be crawling with intelligent human beings or even dinosaurs," he said.
"But I would suspect that the great majority of them at least will have some sort of primitive life, like bacteria or some of the multicellular creatures that populated our Earth for the first 3 billion years of its existence."
...
+++++
Intelligent Life in the Universe and Exotheology
in Christianity and the Baha'i Writings

Know thou that every fixed star hath its own planets, and every planet its own creatures, whose number no man can compute. - Baha'u'llah, Gleanings

I[t] must be confessed in other realms there are Still other worlds, other breeds of men... -Lucretius (99-55 BC), On the Nature of Things

I have ... the strong belief ... that there are inhabitants in other worlds - Immanuel Kant (1724-1804), Critique of Pure Reason
Fascination with the possibility of intelligent lifeforms on other planets has lasted over two millennia, and perhaps much longer. Philosophy, science, religion and literature all contain strong statements of belief about such a possibility. It is a profoundly interesting question because it raises issues about the origins of life and our place in the physical and spiritual universe. It also has inspired a new discipline: exotheology. Exotheology is the examination of theological issues as they pertain to Extraterrestrial Intelligence (ETI). Traditional Christian theology and the Baha'i Revelation disclose fascinating observations on exotheology...
In Western Christendom the Inquisition burned the Dominican monk Giordano Bruno at the stake in Rome in 1600 for insisting on a heliocentric (sun-centered) rather than a geocentric (earth- centered) universe. Bruno took matters a step further by insisting the universe was populated by ETIs. Brun said, "Innumerable suns exist; innumerable earths revolve about these suns in a manner similar to the way the seven planets revolve around our sun. Living being inhabit these worlds." (Drake, Is Anyone Out There? Page 65)...
...Let's examine some more explicit statements of extraterrestrial lifeforms. Baha'u'llah says in Gleanings, "Know thou that every fixed star hath its own planets, and every planet its own creatures, whose number no man can compute." Shoghi Effendi was asked about this quotation in 1937:
"Regarding the passage on p. 163 of the 'Gleanings'; the creatures which Baha'u'llah states to be found in every planet cannot be considered to be necessarily similar or different from human beings on this earth. Baha'u'llah does not specifically state whether such creatures are like or unlike us. He simply refers to the fact that there are creatures in every planet.
It remains for science to discover one day the exact nature of these creatures.
" (From a letter written on behalf of Shoghi Effendi to an individual believer, February 9, 1937) (Lights of Guidance 478)...